Before I get into this I wanted to say welcome back to Peter Gammons who wrote his
first article
since recovering from his aneurysm. He's the best in the business and a fellow Red Sox fan. So welcome back, Petey.
Random thoughts while wondering if I can make a plane crash joke in my Marshall-UT breakdown tommorrow.
-The only place you'll see more mullets than the Tennessee Valley Fair is on a Spanish soccer team. -Now that David Pollack is out for the year with a broken neck, is it safe to say that his motor has stopped? -I would personally like to thank the producers of "House" for feeling it was necessary to show me the inside of a man's colon. No, really. Thanks alot. -So LSU AD Skip Bertman wants to bitch about the SEC officiating...well welcome to the club Skip but I'd be more worried about having
Karl Childers
as your head coach. -Random prediction: Breakout television hit of the fall..."Smith". -This years Erik Ainge and Randy Sanders is Drew Weatherford and Jeff Bowden but the FSU fans are much more creative than UT fans were last season...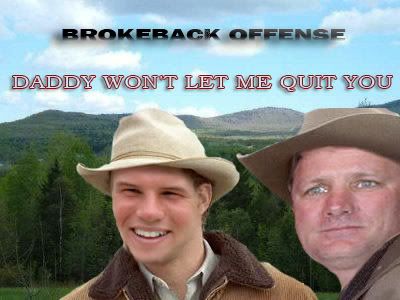 -There's funny shit, there's really funny shit, and then there's a little kid trying to use a urinal at a football game. -The funniest thing about Florida beating UT last weekend is the Urban Legend actually thinks he had something to do with it. -I hope Chuck Amato and Larry Coker are getting their unemployment paperwork ready. -If Miami, FSU, or Tennessee is Thug U, does that make Marshall Parole U? -So much for Brent Schaeffer returning Ole Miss to their version of prominence (7-5 and a shitty bowl). Hey Ole Miss Fan...at least you have this guy to keep you entertained... -Wait....a the Raider QB was just sacked again. -If you haven't seen Green Street Hooligans, do yourself a favor and go to Blockbuster right now. Trust me. Just do it. -Speaking of GSH...now that I write on this blog, am I a fucking yank journo? Shit. -It's official...The Pillsbury Doughboy Era has begun at Georgia.
-Finally, Yeah yeah...Oklahoma got completely screwed by the replay official this past weekend. Not only did an Oregon player hit the ball before it went 10 yards, the ball was actually recovered by Oklahoma's Allen Patrick.... But if I were Bob Stoops, I would shut the fuck up about the officiating and go punch my defensive coordinator right in the gooch. It was the Sooner D, not the refs, that gave up two touchdowns in the last 72 seconds and over 500 yards the entire game. Bob, how bout you quit with the press conferences and go do some tackling drills.