IJ's not gonna pretend that he can place kick a football, BUT let's say IJ missed a short field goal to the right, he may even miss his next attempt wide right, but he dang sure isn't gonna miss field goals 3-4 wide right!!!!!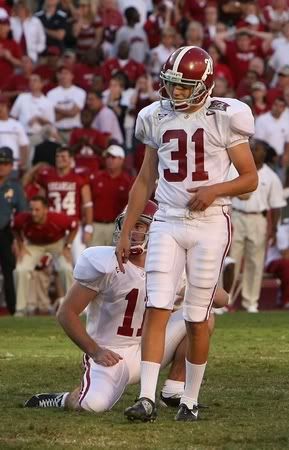 Tiffin, seen here pondering his
chances against a one-legged man in a kicking contest.
Photo (Tidesports.com)
Excuse IJ if he seems emotional. Saturday left him feeling very distraught, and Sunday didn't do much to help since his Dolphins looked just as bad as the horrible Titans. IJ will spend the rest of the week funneling Kool-Aid so he can go into the Florida game with at least a tiny bit of optimism.